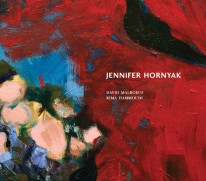 8 November 2011 – Westmount Independant
By Heather Black
On October 8, Westmount artist Jennifer Hornyak introduced a new book of her colourful art, a 250-page retrospective. I spoke to the artist at her book launch and vernissage at Galerie de Bellefeuille on Greene Ave.
Labour of love
Simply entitled Jennifer Hornyak, the coffee table book contains over 200 images of Hornyak's colourful floral painting. After a conversation on art books, she commented to her assistant David Malboeuf that "it might be fun to do one." Wanting to share her love of painting, a retrospective seemed both appealing and timely at this point in her career.
A collaborative effort, the book evolved through a series of interviews. Writer Rima Hammoudi filled in pertinent life events, such as the artist's arrival in Montreal in 1961, while Malboeuf wrote an analysis of her work. This includes Hornyak's sources of inspiration, among them Brueghel's delicate floral bouquets.
Born in Yorkshire, Hornyak also spoke of her affinity to fellow countryman, painter John Piper. Hornyak describes artists as being "connected to the past, the present and hopefully the future." But travel, as evidenced by a composition featuring an oriental garden, has also influenced her style. Today Hornyak is one of Canada's best known contemporary artists.
Evolution of style
Recognized internationally for her rich painterly style, for Hornyak colour is "very emotional." With compositions of bouquets and fallen petals, she expresses the fleeting and volatile nature of beauty "in a world so often consumed by sadness and destruction."
When her paintings are presented chronologically, as in one book section, an evolution of her style becomes apparent. Recent compositions are more graphic with the colour black becoming more dominant. Hornyak spoke of the need for black to ground a painting. Referencing Manet's lemons set against a black background, she confessed: "I love black."
Recent compositions are also more complex with elements of staging or of set design. This is not surprising as the book reveals Hornyak's youthful stage debut as an Alice in Wonderland before paint and sketchpad claimed her creative muse. For Hornyak, art represents a way of being in the world: "I paint what I learn, and I learn by looking and by being in love with working."
Currently represented by galleries in Calgary, Ottawa, Toronto, St. John and Halifax, she exhibits regularly at Galerie de Bellefeuille on Greene Ave. Encouraged by the gallery owners Jacques and Helen Bellefeuille in the early 1990s, she was one of the first to exhibit at their present location.
Lasting impressions
The book was over two years in the making, and Hornyak has high praise for her collaborators' professionalism. But the result – insightful text with over 200 colourful paintings – reflects a thoughtful and accomplished artist.
Heather Black is a Westmount communication designer.
Contact her at [email protected]