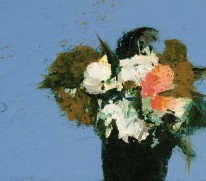 2 December 2011- We are proud to announce that, once again, Jennifer Hornyak will present two new paintings at the Toronto International Art Fair.
The event will take place at the Metro Toronto Convention Center from October 28 to November 1st.
As always, the TIAF is an exciting event in the Canadian contemporary art scene, and is a great occasion to meet artists and galleries from around the world. Come and look for Jennifer's new works at the Galerie de Bellefeuille booth.