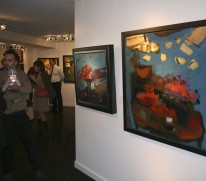 1 November 2011- Jennifer Hornyak is presenting more than 30 new paintings at Galerie de Bellefeuille.
The opening reception was packed for the opening as everyone gathered to take a first look at Jennifer's new paintings and to buy a copy of her new book.
We would like to thank the people at Galerie de Bellefeuille for their wonderful work and special thanks to everyone who attended the event.
You can view the new paintings on Galerie de Bellefeuille's website.